Below are samples of Marrowstone Press designs and reviews
LIFESPAN INTEGRATION, Connecting Ego States Through Time, Peggy Pace
"Galen Garwood brings his years of experience in design, art, editing, and publishing to anyone looking for help and support in bringing to market a self-published book.  This past year (2015) Galen re-designed and re-formatted my book, Lifespan Integration, into a POD format, making it more widely available.  In the past few months alone, my book sales have increased dramatically. Galen is a true artist with a creative mind; and he is also a very good listener and "team player". Throughout the project Galen worked with me via Skype and e-mail, offering his artistic and editing suggestions while adapting his ideas to fit with what I wanted. I never waited more than a day for a response from Galen – more often he responded within hours, getting back to me with the changes I had requested. Together we created a truly beautiful and much more marketable book which exceeded my expectations.  I will definitely engage Galen's services again when I write my next book."
STEPHEN YATES, Paintings
"Galen Garwood created and facilitated the printing of a most beautiful catalog for an exhibit of my paintings a few years ago.  He was great to work with, all by email, and the process of sending images and suggestions and then seeing their masterful layouts and remarkable finished product was a great experience. His talent and artistic eye assured a tasteful, well-done graphics piece to be proud of.  I encourage anyone with a similar project to feel confident working with him. "
LATE SUMMER STORM IN EARLY WINTER, Peter Weltner, poems
"For Galen Garwood, design is art of revelation.  The covers which enclose a work, the layout of its words and paragraphs or stanzas, the images that are part of it, the typeface: all of these elements and more enter into it as part of his dialogue with the writer.  His work is always guided by generosity, by which I mean his understanding that the work and the person who designs how it will be offered to the world are in an intimate dialogue.  He knows that good design is always a collaboration meant to enhance the work itself, that it is an art intended to reveal another artist's work while at the same time remaining true to itself and its own artistry. His work thereby makes almost visible a writer's deepest meanings, meanings which become possible only because they are now found bound in a book. There is something almost spiritual about how uncannily Garwood intuits another artist's work and realizes it in his designs, perhaps because, above all else, his work is invariably beautiful."
BEAUTIFUL COLORS, Duran Duran Poster Book
"Galen is an artist with a brilliant creative vision. When I approached him for the cover of my book, I had a general sense of what I was looking to achieve. In Galen's hands, my idea took shape, drew strength from his constructive insights, and quickly surpassed the potential of my imagination. It was very inspiring and completely satisfying to see the cover design evolve with Galen's remarkable skill. The result became one of the most compelling aspects of my book, attracting interest from around the world and helping to make my first release one to be proud of."
Andrew Golub, Durandy.com
Note from G.G. This was an exciting albeit complicated project. Every element was brought in separately to create one seamless image. We wanted to create the sense of all the Duran Duran posters placed on an outside wall, with various stages of wear and tear by the weather. Andy, client and owner of this amazing collection of posters, is standing in front of the wall, musing on one of the posters. The moving crowd in front, as if exiting a concert, was composed of only two models wearing different apparel.

BLOOMING IN WINTER
*Poetry and artwork by American poet Jennifer O'Neal Pickering
MORRIS GRAVES, His Houses, His Gardens, Richard Svare
Designed by Marrowstone Design, published by Marrowstone Press and Process Media, the long-awaited Morris Graves: His Houses, His Gardens tells the story of the homes of Morris Graves, a leading figure in Northwest Art and one of the most important American artists of the twentieth century.
This high-quality book with beautiful duotone photographs concerns itself with four locations—The Rock, Careläden, Woodtown Manor, and The Lake. Author, photographer, and close Graves friend Richard Svare makes clear that the world Morris Graves inhabited physically was the world he experienced transcendentally.
Morris Graves soared from obscurity to fame in 1942, when thirty of his works appeared in New York's Museum of Modern Art's exhibition "Americans 1942: 18 Artists from Nine States." A review in ARTnews
* a book of poems by American poet and musician Richard Witherspoon.
*This was a comprehensive museum catalog created for a retrospective exhibition of the American artist, John Franklin Koenig, Whatcom Country Art Museum.
MAENAM, Of Water, Of Light, a limited edition art book / photographs by Galen Garwood and poems by Marvin Bell, James Broughton, Linda Gregg, Sam Hamill, Jeanne Morel, William O'Daly, Emily Warn, and Peter Weltner.
* Lotus Fire, an artist catalog,  Galen Garwood, paintings and poems 2006.
The following images depict left and right pages (spreads) within our various designed books, containing text blocks, images, charts, and graphs.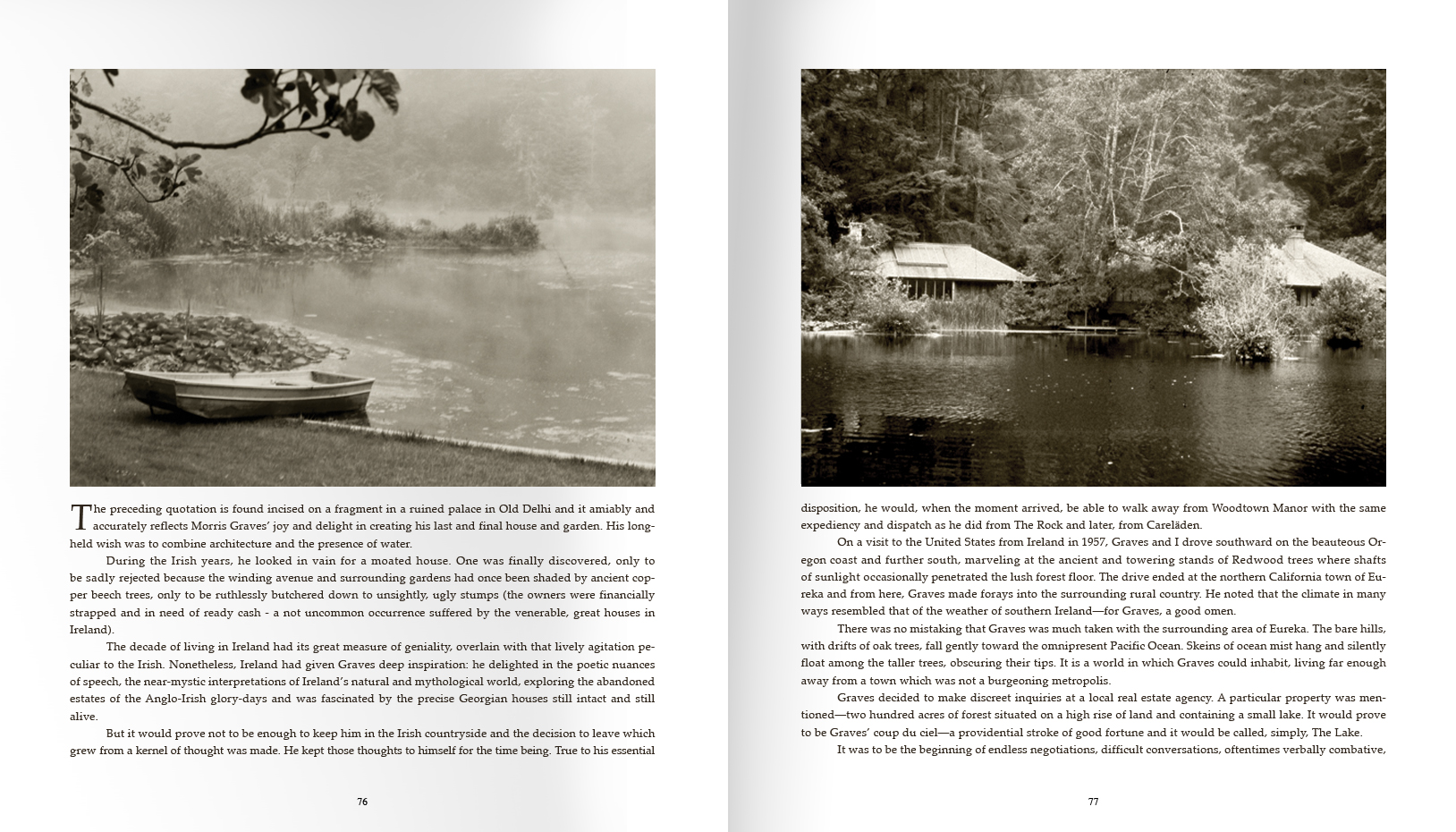 BEYOND THE WALL
The three page spreads below illustrate a completely customized project. The client submitted a concept. From this, I 'ghost' wrote the story, created all illustrations, and designed the book.
Galen Garwood is one of the few designers who understands both the word and the image, how they interrelate and create, in remarkable depth and clarity. He brings a masterful eye to the printed or posted page. The impeccable integrity, the wholeness, of his design process and his collaboration with others obtains not only from his experience as an accomplished artist but also from his integrity as a human being.           
                                                                                                                                                     ~ William O'Daly, author of The Road to Isla Negra and senior editor