"…Three Poets, Marlena Maduro Baraf, Carmen Bardeguez-Brown, and Julio César Paz …a unique collection of poetry that is an act of kinship and a compelling documentary of language in time. These three voices rally the power of poetry in a global way, from New York to Hanoi to Chiang Mai."   –Elaine Sexton, author of Drive.
"The fact that three Latino poets collaborated on this work gives the book a nuanced and more complex vision. These poet-travelers offer us a feast of images from their adopted societies. They present us with what is new and different while remembering that which was left behind." –Dahlma Llanos-Figueroa, Author of Daughters of the Stone, A Woman of Endurance, and Indomita.
"Three beautiful poets, connected by history, by their love of words, and by their desire to tell us what they know, have given us this unusual, memorable collection of friendship, and of understanding."  –Esther Cohen, Poet, New York.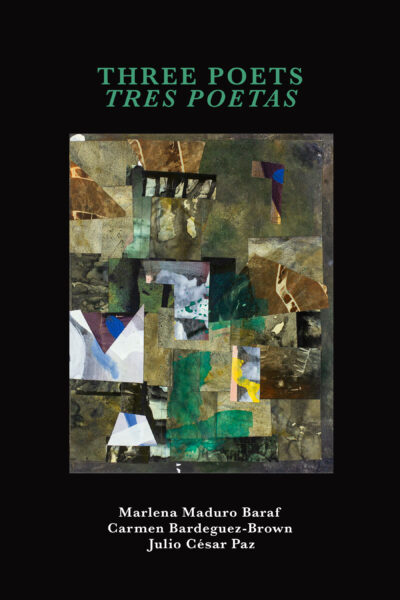 Marlena Maduro Baraf – editor, essayist, poet – immigrated to the United States from her native Panama and is author of the memoir, At the Narrow Waist of the World. Her essays, stories and poems have been published in Ms. Magazine, Lilith, Sweet Lit, Huffpost, the Ekphrastic Review, Night Heron Barks, On the Seawall, Poets Reading the News, and elsewhere. Marlena's blog, Soy/Somos, I Am/We Are, features conversations with Latinos living in the USA.                         www.marlenamadurobaraf.com
Carmen Bardeguez-Brown is a Puerto Rican-Nuyorican poet. Her work has been published in magazines and anthologies such as: Tribes, Phatitude Cultural Magazine, Nuyorican Poets Writers Vol.1 edited by Dr. Nancy Mercado, Xanath Caraza Poetry Blog, On the Seawall, Aloud: Voices of the Nuyorican Poets Café, Manteca: An Anthology of Afro-Latino Poets and many more. She has recently published  Meditation on Love, Dancing, Loss, and Forgiveness,  Marrowstone Press, 2022. https://cbbpoetry.wordpress.com/
Julio César Paz is a Cuban-born poet and educator, raised in a small city by the sea. He lives in Hanoi where he shares his love of poetry through regular workshops with his students. He finds joy and inspiration in taking slow motion walks with his pet after school. He has co-authored Lo que aprendi al otro lado del mundo with Nuyorican poet Carmen Bardeguez Brown. His most recent collection is Trinculo's Handwritings. Find him on Twitter @JCPaz15.