In her companion memoir, Two Eggs and a Lemon, Joanna writes: "Later, returning home, past their store in the last rays of the evening sun, I hear hurried feet behind me. Thinking it's one of the younger children coming to take my hand to walk with me, I turn and wait. It's a little boy from the store, already dressed in his yellow pyjamas and clutching something carefully in both hands. Reaching me, he looks up with big, brown eyes, a solemn smile lighting his face, then slowly opens and holds out his hands, offering their gift: two eggs and a lemon.
"They rest heavy in my hands, the eggs smooth and a little warm, the lemon's knobbly skin releasing its fresh tang.
"I think of the all the weighty reports about Myanmar, a country and people vilified for the poverty, ethnic conflicts, the inadequate health services for the people, the decaying infrastructure, the pervasive presence of the military, and the fear. Yet, in my hands, I hold the evidence of another reality, and I wonder, why is it that those who apparently have the least, offer the most?"
Here, in PORTRAITS OF MYANMAR, we get to hold that gift, her gift, in these stunning and endearing images of a people who never give up hope, who nurture their culture, multi-dimensional as it is, as a seed of possibility. Galen Garwood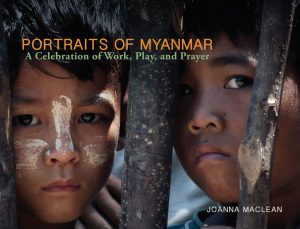 NEWSFLASH
MARROWSTONE PRESS  is now coordinating our authors with a new feature available through one of our our POD printers, BOOKBABY:
the BOOKSHOP
This means when you order Joanna MacLean's PORTRAITS OF MYANMAR through the BookShop,
the author/photographer is properly remunerated  for her dedication, her passion, and her craft.
Through the online BookShop,  profits go back to the author, rather than the distributor.

We like that!
Thank you for your support!
Enjoy this beautiful book.

A SPECIAL EDITION
For those of you who like to collect beautiful hard-back art books, that are limited and signed by the artist,
we've created a magnificent edition of Joanna MacLean's Portraits of Myanmar.